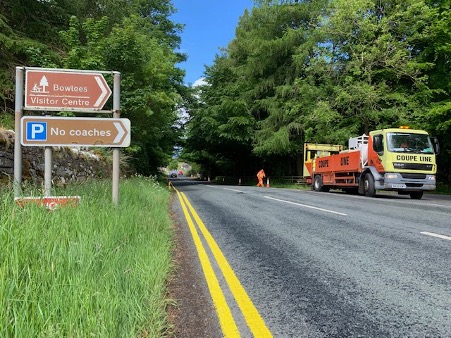 The Coupe Line team were involved in another project by Durham County Council, but this time it was based at Low Force, Bowlees area. Low Force is located within the North Pennines area of outstanding natural beauty which also offers stunning landscapes and views.
Since lockdown has eased, there has been a number of head-on collisions due to people parking on both sides of the road in this area. As the area is a well-known beauty spot and attracts a lot of visitors each year, the number of people visiting has increased in the last few weeks as the new lockdown rules have now allowed people to visit places like Low Force and enjoy the sites and go for walks, so there was a concern for people's safety. The Police and Durham County passed an emergency order to install double yellow lines.
The police and council are hoping this will discourage people from continuing to park their cars as before and keep everyone safe. The Coupe Line team were happy to help with a project like this for local people.
We started installing the yellow lines last week and will be completing it this week. We hope everyone can carry on enjoying their visit to Low Force and remain safe while doing so.